Adopting a Greyhound
with Crazy For Greyhounds
Crazy For Greyhounds Adoption is staffed by volunteers dedicated to finding comfortable, loving forever homes for retired racing greyhounds.
Upon arrival in Canada, pets are temporarily homed with trained volunteer foster families to ensure the best possible transition from a working professional athlete to a happy & healthy family pet. Foster caregivers carefully assess each dog's unique personality and character to help match them with their ideal furever family.
What is the adoption process?
Complete and submit the adoption application
Adoption application is reviewed by our Foster and Adoption Coordination Team
Note: applications from homes with young children and no prior greyhound experience will be deferred until all children reach at least 8 years of age. 
References are checked by a CFGA representative
A conference call is conducted with you and CFGA representative
A home visit may be scheduled with our Home Visit Coordination Team if required
The Foster Coordination Team reviews all current fosters for eligible matches
Once an eligible match is found, the Foster and Adoption Coordination Team, along with the Home Visit Coordination Team, discuss the match
If the match is approved, you will be contacted to discuss the eligible match
How long is the adoption process?
We all wish we could have our greyhound yesterday, but our adoption process ensures the right match is found for our greyhounds and for you and your household. Applications are reviewed in the order that they are submitted.
To ensure a speedier processing time, please ensure that your application is as thorough as it can be, and that your references are available.
If our Adoption Coordinator volunteers are able to easily reach your references, the preliminary approval can usually be obtained within a week. The second step of the approval process is to narrow down your preferences for your new hound and coordinate a home check.
What if I want to pick my own greyhound?
CFGA is committed to finding the perfect matches for our retired racing greyhounds, and also the perfect match for you and your household needs.
If you are interested in a specific greyhound, please add that to your adoption application, and our Adoption Coordination Team will take that into consideration.
What standard medical care does CFGA provide before adoption?
Heartworm test (and treatment if necessary) until negative results achieved
Tick-borne disease panel and treatment as necessary
Spay or neuter
Microchip implanted and registered with the provider
All vaccinations, including DHLPP, Rabies, and Bordetella
Deworming and flea/tick preventative
What is covered and included in the adoption fee?
One greyhound who is as healthy as we can make him or her!
A full set of medical records for the time that greyhound has been in CFGA's care.
Transportation of the greyhound from their racing kennel to CFGA's care.
Rabies certificate and tag.
A printout of his or her pedigree and racing record if applicable.
Microchip number and tag, and registration with the provider.
Martingale collar, 6′ leash, and a basket muzzle.
Post-adoption follow-up support.
Greyhound-related information packet.
How much is the adoption fee?
As of November 2021 with the reopening of the US/CAN land border, placements will soon resume. Adoption fees may vary widely for the near future. We are predicting the range of the adoption fee could be $750-1000CAD per adoption, depending on many factors such as fuel and travel expenses, customs and testing, currency conversion, inflation, and veterinary expenses (as detailed above). 
If I have adopted from CFGA before, do I need to fill out the application form?
Yes, please. Anyone interested in an adoption should complete the application. This will result in your name being added to the current potential adopters' list.
In What areas will CFGA facilitate an adoption?
CFGA covers the GTA and Golden Horseshoe in Ontario, from London to Ottawa, from St. Catharines to Barrie and everywhere in between. If you are looking for a greyhound and live in an area outside this jurisdiction, please contact us to discuss.
What if things don't work out?
Surrendering your greyhound should be a last resort as this can be very stressful and confusing for any dog. We are always here to help, so  contact us for assistance!
If after having exhausted all other options you are unable to keep the greyhound, it may not be sold, relinquished or taken to any other person or organization, including a humane society or shelter, without first discussing this with CFGA.
current & Upcoming adoptables
Our goal is always the best match for both dog and family. Choosing a pet based on a photo and brief profile may not result in the ideal fit for your lifestyle and household.
CFGA uses all available information on both dog and adopter(s) to create the best possible matches.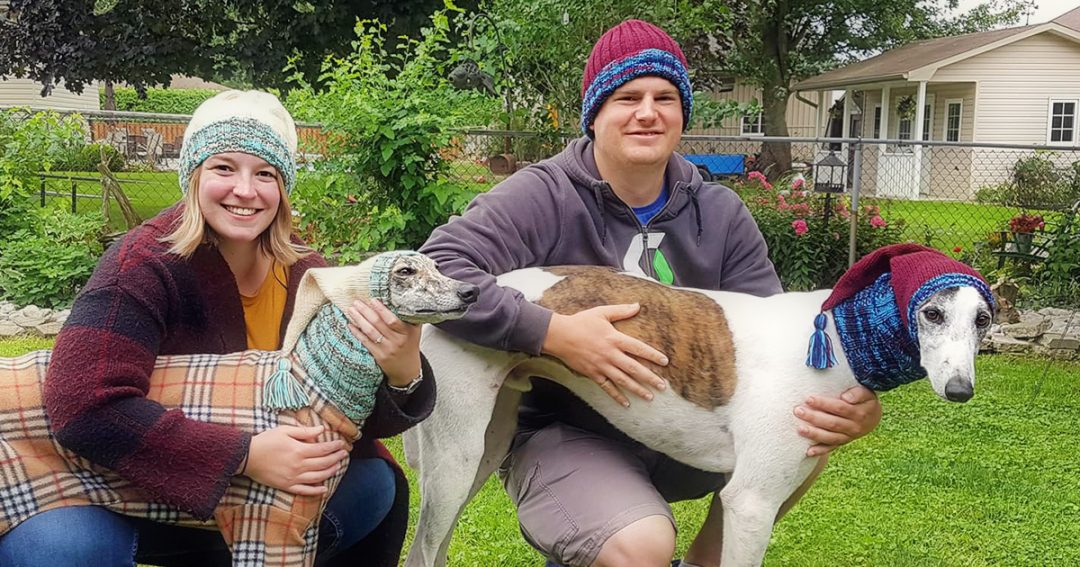 We're Crazy for Hats!
Check out these hand-knit matching hat sets for you and your greyhound.
All proceeds go to support CFGA
If you think adopting a retired racing greyhound may be right for you, congratulations! Click below to get started:
A large backlog of already-received applications means we've had to suspend new applications for the moment. Please try again at a later date! Follow us on Facebook for the most up-to-date info.  
If you're new to greyhounds and would like an opportunity to spend some enjoyable time with these magnificent animals, maybe volunteering is right for you.
Or maybe you're the perfect person to be a CFGA Foster. If you can provide a safe, comfortable and healthy environment and invest time and attention, fostering can be very rewarding.